Greece is a destination that attracts visitors and travelers all year round. Thanks to its wonderful climate, it is the perfect place to enjoy the outdoors and soak in the sun regardless of the season. Still, there is no denying that summers in Greece are magical.
This time, we have selected three fantastic luxury stays that will be an excellent pick for your next Greek adventure.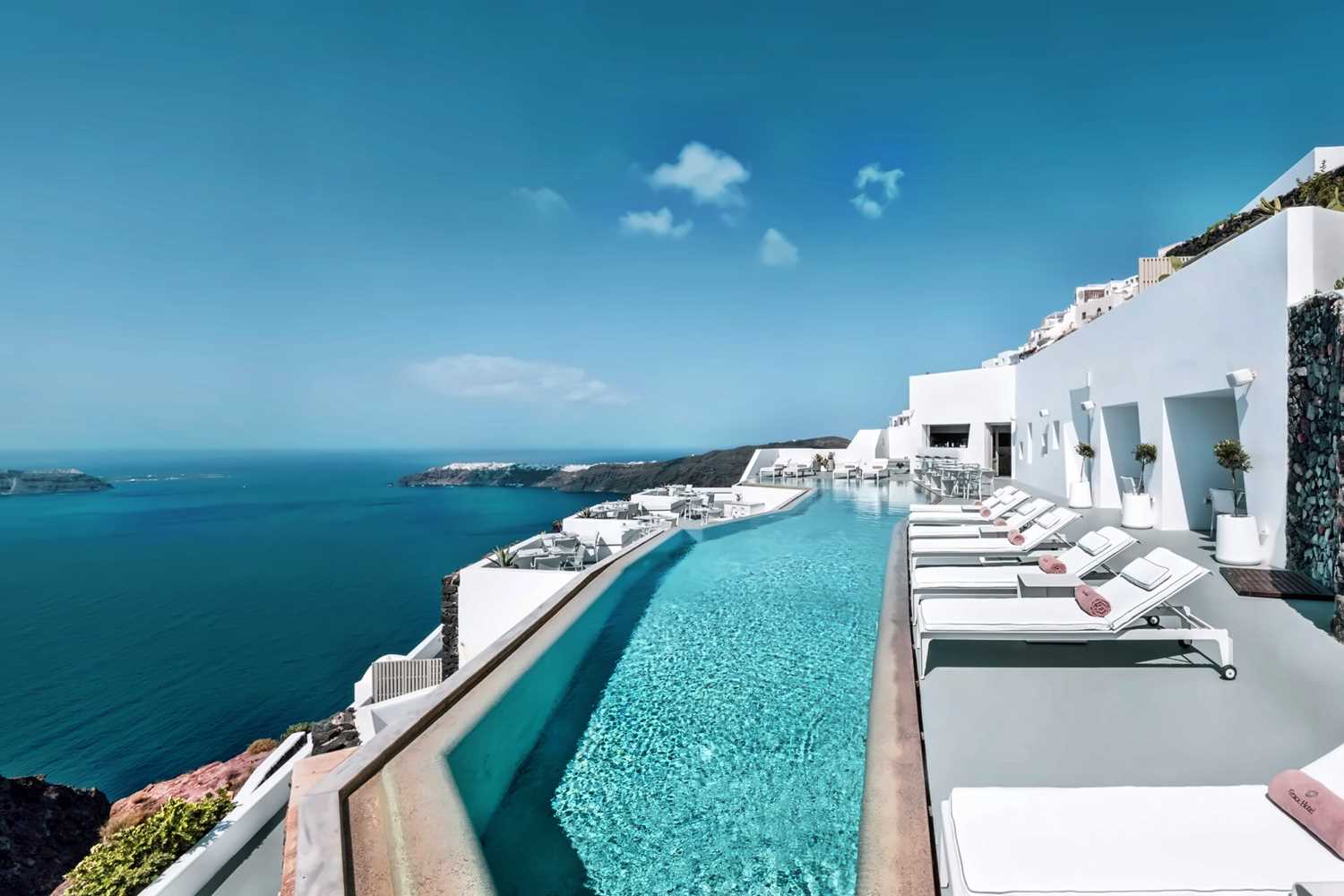 Grace Hotel Santorini
While Greece has no shortage of stunning islands, Santorini definitely comes high on the list. In recent years, the beautiful island has become a loved travel destination for many a-listers. With a vibrant nightlife scene and spectacular natural beauty, it is not difficult to see why.
Enjoy the extraordinary sunsets Santorini is known for, and admire the impressive cliffs and picturesque views.
The best place to experience all the magic Santorini has to offer is Grace Hotel Santorini. Sitting atop Imerovigli, the accommodation is set not far from the famous Skaros Rock. In fact, guests of the hotel will be conveniently close to all main points of interest like Oia and Fira (the island's capital).
A highlight of the accommodation is its 363 Champagne Lounge, located almost 1200 feet above sea level. With its spectacular cocktails and views, it is the perfect place to snap an Instagram selfie or wind down after a long day.
Unlike other areas on the island, the town of Imerovigli is less crowded, which is great for those who prefer to stay away from too many people.
Of course, the hotel itself is a real treat for the eyes. With only 21 rooms, Grace Hotel Santorini offers only the best of luxury. Almost all rooms have their own pools, but guests may also enjoy the extraordinarily long and spacious infinity pool located on one of the seven levels.
Wish to experience the beauty of Santorini for yourself? If you book your stay through PrivateUpgrades, you will have access to numerous benefits like room upgrades, free breakfast, complimentary private transfer and champagne cocktails, and so much more!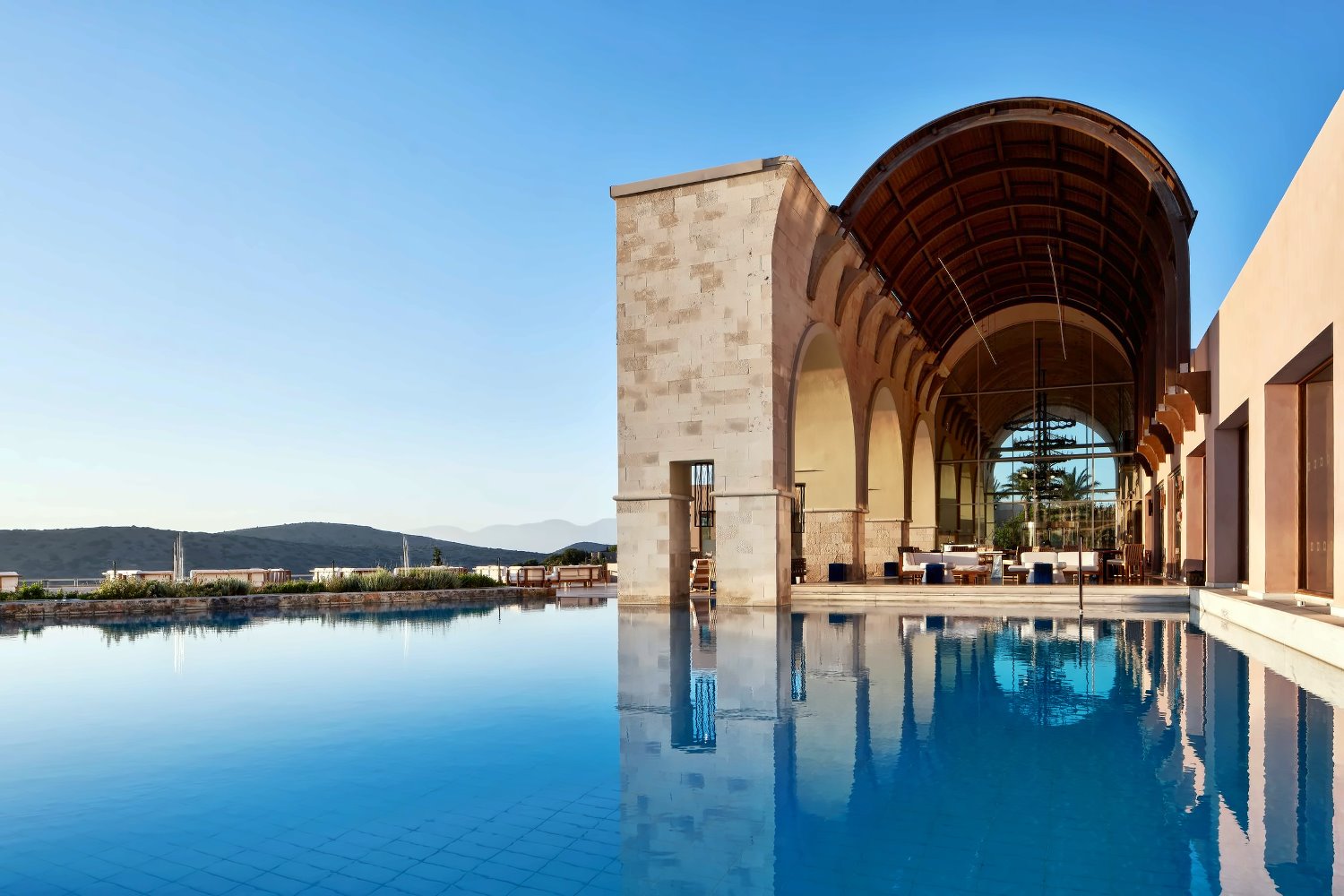 Blue Palace Resort & Spa
There are hundreds of reasons why Crete should be on your travel bucket list. Boasting some of the best beaches in Greece, including the fabulous pink-sand beach of Elafonisi, it is an excellent getaway for anyone who is craving to get a dose of vitamin D. If sunbathing isn't your thing, don't worry! There are many other things to do and see.
History lovers will be excited to explore the numerous archaeological sites throughout Crete. Did you know that the island was home to one of the oldest known civilizations in the world? That's right. The Minoans, during the Bronze Age, inhabited Crete.
When planning a vacation on the beautiful island, consider staying at the incredible Blue Palace Resort & Spa. Soak up the breathtaking views of the island of Spinalonga and feel like true royalty – vacationing at the five-star hotel will be an exceptional experience.
The design of Blue Palace Resort & Spa is a mix of contemporary and traditional. Wooden shutters, pebble mosaics, clay roofs, and bright furnishings create a wonderful atmosphere.
If you crave a more special experience, opt for one of the suites, which have direct access to the impressive infinity-edge pool. Whichever suite or bungalow you decide to pick, you will have plenty of space.
The resort also houses five different restaurants. Guests may choose between multiple dining options. Whether you prefer Chinese, Japanese, Thai, Italian, or Greek cuisine, here is where you will find it.
Similarly to Grace Hotel Santorini, members of PrivateUpgrades exclusive travel club can enjoy many advantages and get a VIP experience when booking a stay at the Blue Palace Resort & Spa. Early check-in/check-out, 100 USD resort credit, free upgrades – these are just a few examples.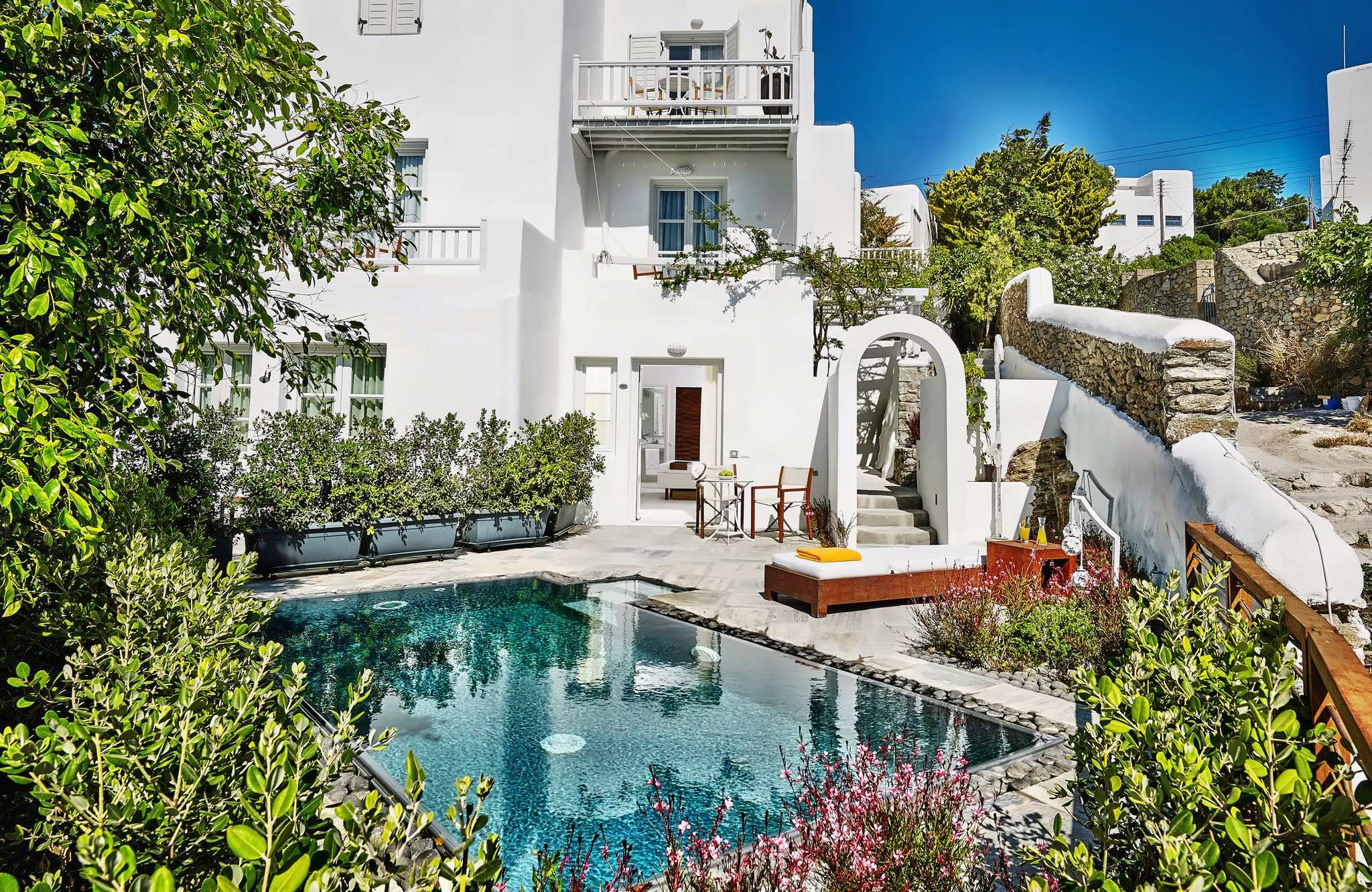 Belvedere Hotel Mykonos
Mykonos really is the perfect travel destination for every type of traveler. Thanks to its party atmosphere and family-friendly amenities, you are guaranteed to have a great time. The glamorous island has excellent weather all year round, but summer and early autumn is the best time to plan your adventure. Then you are sure to soak in all the sun.
Great food, mesmerizing beaches, and charming whitewashed houses – what is there not to love?
On the Greek island, there are many great luxury hotels, but Belvedere Hotel Mykonos is definitely one of the best. Set just on the edge of Mykonos town, the hotel offers plenty of privacy for those who wish to escape the crowds.
With awe-inspiring views across the Aegean sea, the accommodation has both exceptional service and great amenities. The 43 rooms and suites are scattered around seven different buildings. What makes the hotel so unique is the fact each building is styled to resemble a small Greek village.
While the decors and furnishings are simple, they are elegant. So if you decide to stay at Belvedere Hotel Mykonos, you will experience the true Greek charm but with a dose of luxury. Imagine floor-to-ceiling windows, marble bathrooms and flooring, Molton Brown toiletries – every single detail is carefully thought of.
Stop by the Belvedere Bar to taste local Greek cuisine. Make sure to try the staple Greek salad – your taste buds will be thankful! Those who prefer something more exotic will be pleasantly surprised by the fava beans with roasted tomato salsa and octopus.
Craving sushi? No worries! Matsuhisa Mykonos is a place that should be on every foodie's itinerary since it offers the best sushi in the area. What is more, the seafood is sourced locally!
While staying at the Belvedere Hotel Mykonos, discover the Six Senses Spa, which encourages guests to explore life within their bodies. What is so great about the spa is that it incorporates elements of the Mykonian lifestyle. So whatever you wish – a vitalizing face treatment or a relaxing massage – you won't be disappointed.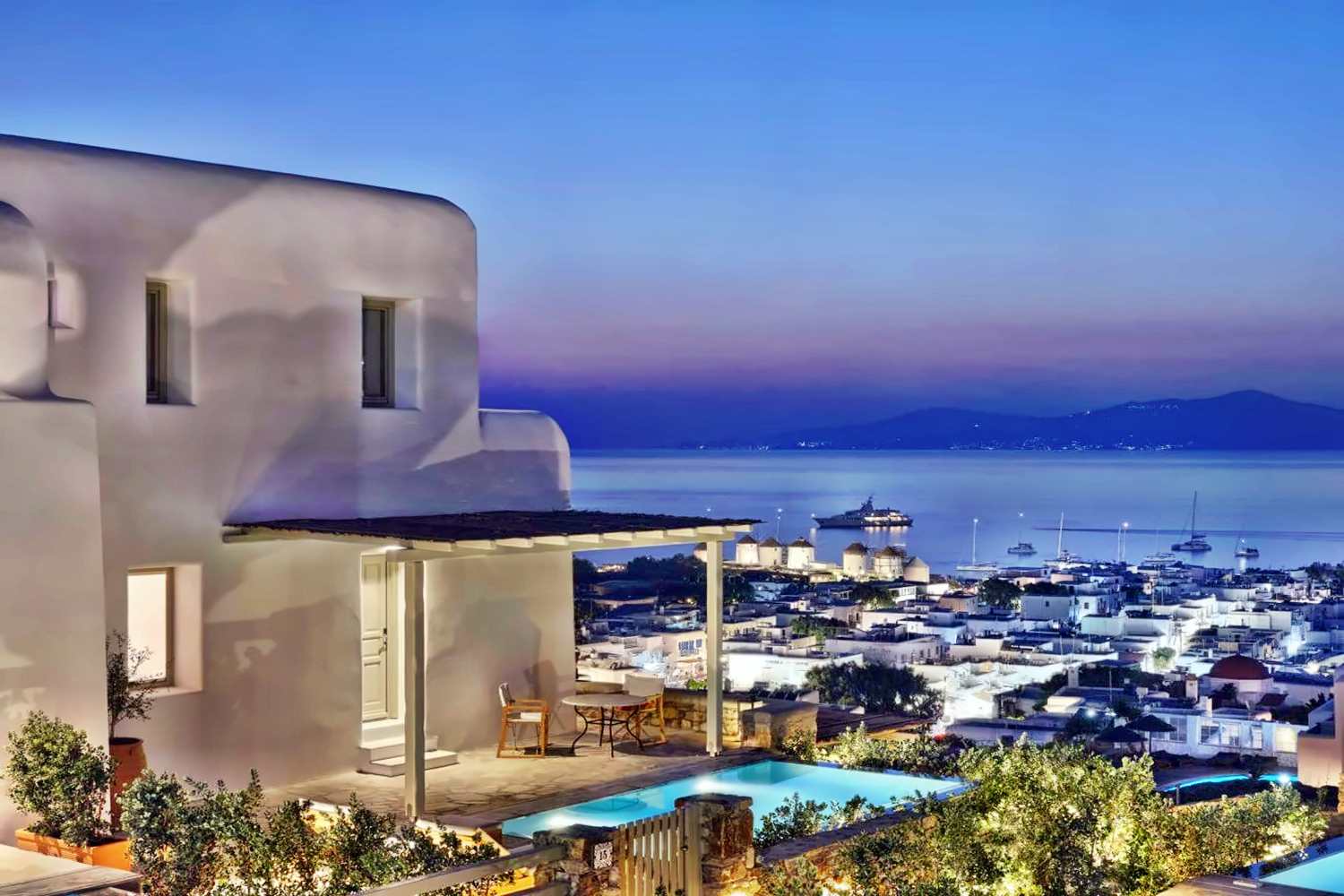 Become a member and make use of our offers
Wish to explore Mykonos? Book your vacation through PrivateUpgrades and get the VIP experience you deserve!
With summer approaching, now is the best time to uncover the beauty of Greece. Join our members' club to make use of exclusive deals and promotions in the most luxurious hotels all around the world.
Have something on your mind? Reach out to our team – we'll be happy to assist in planning your dream vacation.